The difference between Third Party Logistics and Fourth Party Logistics, and the rise of even fifth party logistics is highly debated in the supply chain industry.

First, what is a Third-Party Logistics provider?
The Council of Supply Chain Management Professionals defines Third Party Logistics (3PL) as outsourcing all or much of the company's logistics operations to a specialized company.
In the early 1970's, Intermodal Market Companies started accepting contracts for cargo transportation making them the third party to the contract thus the term 3PL. Since then the definition has broadened to the point where any company that offers some logistics services can call itself a 3PL provider.
The legal definition of a 3PL provider is a company who solely receives, holds or otherwise transport consumer products in the ordinary course of business, but does not take title of the product.
Preferably these services are bundled together by the provider which include cargo transportation, warehousing, cross-docking, inventory management, picking and packing, kitting, light assemble, packaging, labeling and freight forwarding as well as other value added services.
What is a 4PL Provider
This Council of Supply Chain Management Professionals defines a 4PL Provider as a separate entity established as a joint venture or long-term contract between primary clients and other logistics companies.
A 4PL provider can be defined as a supply chain intergrader that assembles and manages the resources and technology of its own organization with those of complementary service providers to deliver a comprehensive supply chain management solution.  4PL providers are often referred to as a non-asset service provider or Lead Logistic Provider (LLP). Their role is to provide the broader scope of managing the entire supply chain.
A 4PL provider differs from a 3PL in the following two ways:
4PL organizations act as a single interface between the client and multiple logistics service providers
Ideally, all aspects of the client supply chain are managed by the 4PL
Other Logistic Layers of Logistic Providers
First Party Logistics or 1PL providers are companies that ship their own cargo such as a manufacturing firm delivering to its customers or a retailer picking up cargo from a supplier.
Second Party Logistics or 2PL Providers are carriers that provided transport service to a specific segment of a transport chain for example FedEx.  It could also involve a maritime shipping company, a rail operator or a trucking company that are hired to haul cargo from an origin like a distribution center to a destination like a port terminal.
Fifth Party Logistics or 5PL providers art digital tech entities which sometimes define themselves as broadening the scope further to e-business services like Amazon.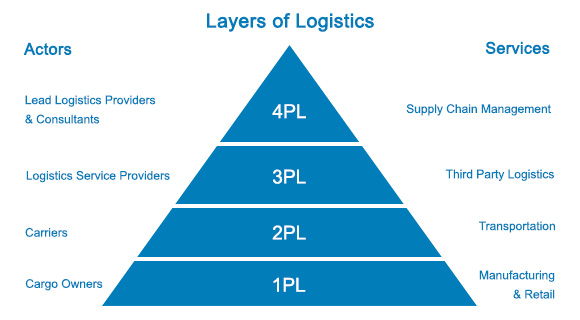 In conclusion you may question anything more elaborate then a Third-Party Logistics provider providing logistics consultation or management no matter how advanced or far reaching their service might be are still a 3PL that invented a fancy title to set them apart from the competition or is there a real differentiation? The 4PL is neutral and will manage the entire logistics process regardless of what carriers, forwarders or warehouses are used. The 4PL can and will even manage 3PL's that the customer is currently using. Many 4PL Providers have also addressed the huge requirements of electronic interface between numerous companies.
At Kendrew, we define ourselves as a 3PL and 4PL provider. We provide the technology and services necessary to manage our clients supply chain.